---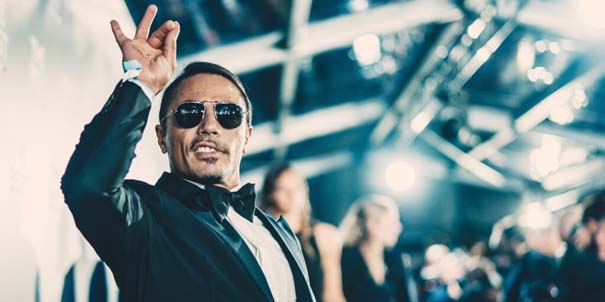 Nurset Gökçe arrives on the carpet ahead of the FIFA Football Awards
in Milan, Italy, on September 23, 2019. Foto: Simon Hofmann - FIFA/FIFA via Getty Images
A noodle shop owner in Vietnam was handed a harsh prison sentence on Thursday for making a video impersonating Salt Bae after a high-flying official enjoyed a golden steak at the chef's London restaurant years ago.
According to CNN (https://edition.cnn.com/2023/05/25/asia/vietnam-salt-bae-noodle-vendor-jailed-intl/index.html) , Bui Tuan Lam went viral in November 2021 after uploading a video titled "Green Onion Bae," (https://www.youtube.com/watch?v=Wy49kBvetEk - posting the clip days) after a Vietnamese official appeared to be eating a gold-covered steak at Salt Bae's London restaurant. He was accused of mocking the official for eating at the restaurant.
On Thursday, Lam was sentenced to 5.5 years in jail for "making, storing, distributing, or disseminating information, documents, and items against the state," in a crackdown by the government carried out under the guise of anti-propaganda measures, per CNN.
The video appears to show Lam impersonating Salt Bae, whose name is Nusret Gökçe — not specifically the official pictured dining in London. Lam was arrested in September 2022, according to CNN, and had previously denied mocking the official.
Lam's trial lasted one day. He was also accused of posting dozens of videos and pictures on social media to "distort and smear the state," according to CNN.
.
Azmi Haroun
Source: businessinsider.nl, 25.05.2023
Direct link: https://caidinh.com/Archiefpagina/Cultuurmaatschappij/avietnamesenoodlevendor.html
---
Cái Đình - 2023