---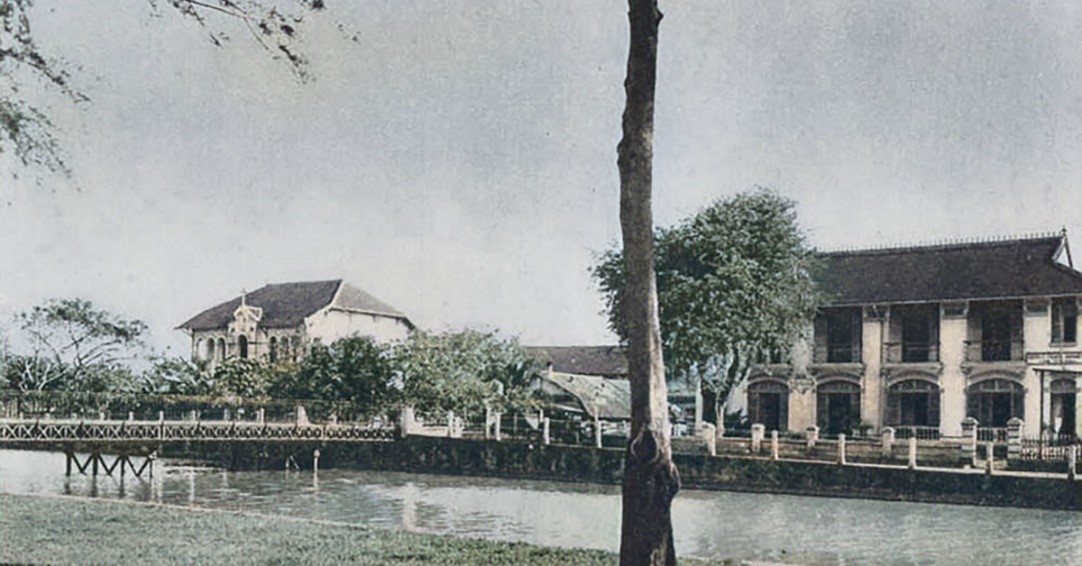 Go Cong in 1920 (Photo: https://thoixua.vn/)
Nam Ky (Cochinchina) or Nam Bo (Southern Vietnam) was the new land. The Vietnamese ended their territorial expansion to the South in 1757.
Go Cong became province only when the French turned Cochinchina into their colony. The name of the province, Go Cong or Khong Tuoc Nguyen means the Plain of Peacocks (Scientific name of the peacock (Peafowl> Pavo Cristatus, Family: Phasianidae).
What were the earmarks of this small province well known for its seafood, cherries and custard apples?
The famous family in Go Cong under the Nguyen dynasty was the Pham Family.
Duke Pham Dang Hung (1764 - 1825) was Minister of Rites. His son Pham Dang Thuat (? - 1861) married Princess Nguyen Phuc Vinh Trinh (1824 - 1892), the 18th daughter of King Minh Mang. Duke Pham Dang Hung's daughter Pham Thi Hang (1810 - 1902) was Queen Tu Du, King Thieu Tri's wife i.e King Minh Mang's daughter - in - law.
Pham Dang Thuat (? - 1861) was son of Pham Dang Hung and his 4th wife Tran Thi Huu. He was son in - law of King Minh Mang and younger half - brother of Queen Tu Du born Pham Thi Hang. Pham Dang Thuat married Princess Nguyen Phuc Vinh Trinh (1824 - 1892) known as poetess Nguyet Dinh.
Pham Thi Hang, Queen Tu Du (1810 - 1902) was daughter of Duke Pham Dang Hung and his first wife, Pham Thi Du. She was born in Son Qui, Tan Hoa district, Gia Dinh province in 1810 (later Tan Hoa was in Go Cong province). It was said that, when she was born, the wells water in Son Qui turned sweet.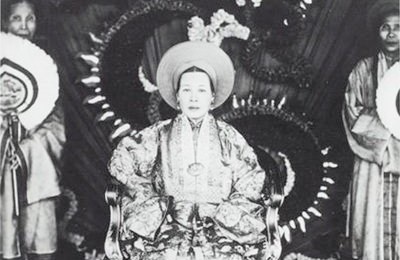 Pham Thi Hang, Queen Tu Du (Photo: https://kienthuc.net.vn/)
According to geomancy, Son Qui means Mount Turtle. It isn't a mount but a mound. The Turtle is one of the Four Sacred Animals (Dragon, Unicorn, Turtle, Phoenix). It is the symbol of longevity.
Pham Thi Hang was well known for her beauty, virtue, filial piety, intelligence and altruism.  At the request of Queen Tran Thi Dang (1), the second wife of King Gia Long, Pham Thi Hang was chosen to serve Crown Prince Nguyen Phuc Mien Tong, son of King Minh Mang and future King Thieu Tri, at the age of 14. It was Queen Tu Du, who was mother of Prince Nguyen Phuc Hong Nham, future King Tu Duc. In 1847 King Thieu Tri died. Queen Tu Du played an important role in Hue. She was a respectful and influential politico-ethical advisor in Hue from 1847 until her death in 1902 I.e from the reign of Tu Duc (1848 - 1883), Duc Duc (1883), Hien Hoa (1883), Tien Phuc (1883 - 1884), Ham Nghi (1884 - 1885), Dong Khanh (1885 - 1889) to the reign of Thanh Thai (1889 - 1907).
(1) Queen Tran Thi Dang (1769 1846): Thuan Thien Cao Hoang Hau.
Vo Tanh was one of the Three Heroes of Gia Dinh. The Tam Hung Gia Dinh (Three Heroes of Gia Dinh <Cochinchina> were Do Thanh Nhan, Chau Van Tien and Vo Tanh).
Vo Tanh was born in Phước An, Bien Hoa province, into an ordinary family. He showed himself a talented military man respected by the Tay Son. Before joining Lord Nguyen Phuc Anh, future King Gia Long, he commanded the Kien Hoa Troops (1) to resist the Tay Son. Appreciating his military exploits and loyalty Lord Nguyen Phuc Anh allowed him to marry his younger sister Nguyen Phuc Ngoc Du.
In 1799 the Qui Nhon Citadel was captured by the Nguyen troops from Cochinchina. Commanded by General Tran Quang Dieu, the Tay Son besieged the Qui Nhon Citadel. Food was exhausted but Vo Tanh didn't surrender to the Tay Son. He wrote letter to Tran Quang Dieu to ask him not to kill the Nguyen troops in the citadel. As for him and Ngo Tung Chau, they killed themselves by asking their soldiers to set fire to the octagonal tower full of explosives. General Tran Quang Dieu ordered the Tay Son troops not to kill the Nguyen troops. He celebrated the burial of Vo Tanh solemnly in the center of the citadel.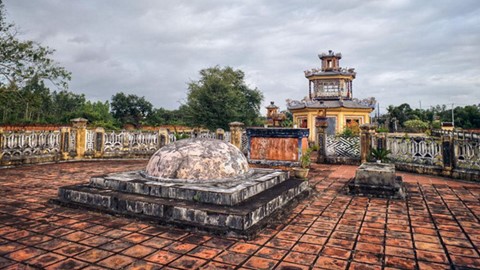 Vo Tanh Mausoleum in the province Binh Dinh (Photo: Kiến Thức)
Vo Tanh wasn't born in Go Cong but he was the architect and commander of the Kien Hoa Troops. There were two temples dedicated to Vo Tanh and to his adoptive mother in Go Tre hamlet, Long Thuan village, Go Cong province.
(1) At that time Kien Hoa indicated Go Cong. 'Kien Hoa Tien Sinh' (Master of Kien Hoa) means 'Master of Go Cong', who was Master Pham Dang Xuong, grandfather of Duke Pham Dang Hung.
Queen: 1934 - 1945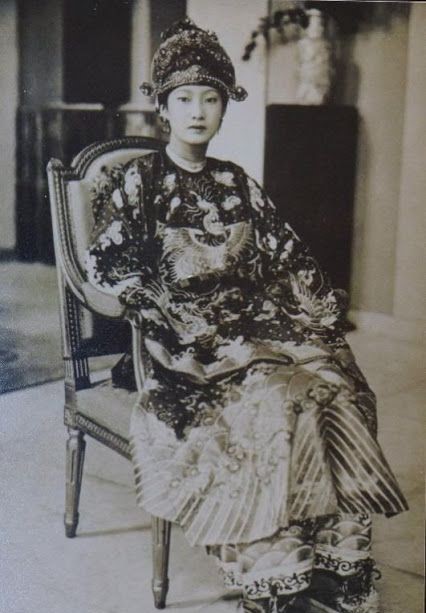 Queen Nam Phuong (Photo: https://nl.pinterest.com/)
Queen Nam Phuong's true name was Nguyen Huu Thi Lan. She was born in Go Cong into a Catholic family having French citizenship. Her French name was Marie-Thérèse Nguyen Huu Hao.
Her father, Pierre Nguyen Huu Hao, was a wealthy man owning lands in Go Cong and plantations of coffee trees in Da Lat.
Her mother's father, Philippe Le Phat Dat (Huyen Si), was one of the four richest men in Cochinchina under French rule. The Nguyen Huu Family was a devoted Roman Catholic one in Go Cong.
Nguyen Huu Thi Lan lived and studied in Sai Gon. At the age of 12 she studied in France. The last King of the Nuguyen dynasty, Bao Dai, married her in 1934. She was recognized as Queen Nam Phuong (Perfume of the South) by King Bao Dai in accordance with Mr. Nguyen Huu Hao's requirement. Queen Nam Phuong remained Roman Catholic. King Bao Dai didn't convert to Catholicism but their children should be baptized.
Queen Nam Phuong died in France in 1963. She was the second Go Cong - born lady to become Queen of the Nguyen dynasty after Queen Tu Du.
Vuong Quang Nhượng was a native of Go Cong. He received French Doctorat en Droit in 1932. In 1935 he married Henriette Bui Quang Chieu, the first Vietnamese woman M.D (1929). Not long after that they divorced. This woman M.D married Mr. Nguyen Ngoc Bích, Ingenieur des Ponts et Chaussées and M.D.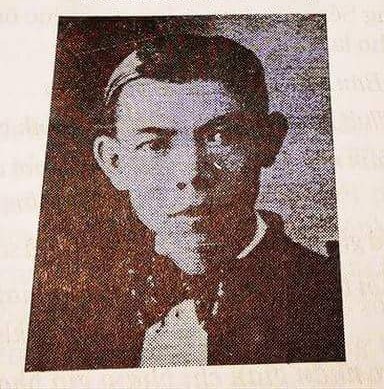 Vuong Quang Nhượng (Photo: http://www.hoainiem.org/)
Dr. Henriette Bui was daughter of Bui Quang Chieu, the first Vietnamese Ingenieur Agronome (1897). Bui Quang Chieu founded Dang Lap Hien (Constitutionalist Party) and La Tribune Indigene. In 1945 all the members of his family were massacred by the Viet Minh except for Dr. Henriette Bui.
We don't know exactly when Dr. Vuong Quang Nhuong married Princess Nguyen Phuc Luong Nhan, daughter of King Thanh Thai (1879 - 1954 - King: 1889 - 1907), who was exiled to Reunion Island in 1907. It was rumored that, thanks to Dr. Vuong Quang Nhuong' s personal prestige, the French government allowed the dethroned King and his family to return to Vung Tau in 1947. King Thanh Thai died in Sai Gon in 1954.
Dr. Vuong Quang Nhượng was a prestigious lawyer and French -educated erudite scholar. He was Minister of Education in the Bao Dai Administration. His younger brother Vuong Quang Truong was Minister of Health in the cabinet headed by Prime Minister Nguyen Ngoc Tho after the fall of the Diem Administration (1963).
****
Go Cong province gave birth to two Queens (Tu Du and Nam Phuong) and to two King's sons-in-law (Pham Dang Thuat and Vuong Quang Nhuong).
From Go Cong appeared:
the first Vietnamese Bishop Nguyen Ba Tong (1865 - 1949) (ordained in 1932).
The first novelist in Quoc Ngu: Ho Bieu Chanh (1885 - 1958)
Agrégé Nguyễn Van Bong (1929 - 1971) was the first Vietnamese Agrégé of International Laws. He was President of the National Institute of Administration and President of the National Progressive Movement.  He was assassinated by a Communist student in 1971.
Another Go Cong - born Agrégé was Nguyen Huu Chau, son - in - law of Dr. Tran Van Chuong, father of Mme Nhu born Tran Le Xuan, and former Minister of Foreign Affairs. He taught laws in Phnom Penh then at the University of Paris.
Pham Dinh Lan, F.A.B.I.
Direct link: https://caidinh.com/Archiefpagina/Cultuurmaatschappij/earmarksofgocong.htm
---
Cái Đình - 2021